sepertimana yang dijanjikan sebelum ni aku kepada salah seorang rakanku, akan ku update post blogku ini berkaitan dengan 'FANGIRLING' ku...hihi....
most of my friends really know well about my fangirling~
I know some of you might think "apa la minat ngan mamat korea yang nampak macam pompuan ni???"
yeah i know...but WHATEVER...i don't care how they look, dress-up like girl(wearing earing/rings/eyeliner and etc.)
just because i'm enjoy listening and love their songs. really make me wanna do some dance.even though i'm not really a good in dance...just a bit shake i guess..ahaks...:P
some of their songs really help me in overcome my heartbroken such as BLUE...:)
thanks BB
last saturday on 27th Oct 2012, Big Bang held their concert in Kuala Lumpur, Malaysia..
the waiting had been paid of after being their 'Kipas Susah Mati' for 4 years...i prefer to use 'Kipas Susah Mati' instead of VIPs as i'm not so really a fans that take a very detail about them...hahaha...like i told you before i just love the music (hip hop, R&B, and etc.) that their blend in their songs..really creative not so irritating like other artist blend the musics in their songs. i give you an example like a techno. other artist use this kind of music from my opinion it's really irritate my ears to listen them but compared to BB's.u can listen by yourself from their last two album: 4th album and alive album.
to tell you truth, comparing their old album and their present album...i prefer their old albums..really show the core of hip hop in their songs.sebab, kemunculan awal mereka, mereka diperkenalkan dengan lagu2 berunsurkan hip hop.tengok sahajalah pakaian mereka or maybe because they wanted to show to their fans that they are all grown-up...i guess...:)
okay, x nak tulis panjang2..
here are few fancam that taken my friend.she's one of the VIPs so called T.O.P's wifey...LOL...
it's just a joke,VIPs...hihi..
happy enjoy..credit to my deary friend Puterk90
much clearer than my fancam...:P
ni plak encore:
pengalaman:
-1st time g concert and it will be the last concert that i will attend..because i have made promise to my mum.
-pagi tu jumpe VIPs daripada BP on the way nak g KL..naik bus same..n then, tanye diorg 'are you guys going to BB's concert??'..and they said 'yes'. i replied 'me too..:)'..
-the rain started at 7.30pm and ended 8.20pm right before the concert started...the rain quiet heavy at first. i thought they are going to postpone until the rain settle down..even my glasses started to fog and blur...hahaha...
-sesak giler nak mampus!!!rase nak pitam.
- nak gerak2 ikut beat die x boleh..huhu..ingt kan boleh la follow tutorial dance yang seungri tunjukkan tu...ala2 mcm ayumi hamasaki nyer konsert...huhu..
-dapat tengok mata daesung secara dekat...yuhoooo!!!!selama ni tgk dalam 'Family Outing' jer...:).comel sgt..hanya mampu wat flying kiss jer...even kat T.O.P pun ak x wat tau!!!hihi
-comparison T.O.P dalam drama/filem ngan in real.hurmmm.....berbeza sangat..die nampak macam pemalu sangat..hihi...lagi2 mse diorg nyanyikan 'Happy Birthday' kat die...hihi...dalam hati aku kata 'pemalu giler mamat ni'...:P..suare die tetap 'MACHO!!'tangan die sihat2 belaka...(mungkin)
-taeyang plak, selalu berada di hadapan ku...LOL....the best moment was die campakkan VARSITY JACKET yang menurut kata rakanku berharga RM810. jacket yang dicampak oleh taeyang menuju ke arah ku....cume..........taeyang x campak jauh sedikit..kalo x mungkin ak dapat...???...mana lah tau...:)
-seungri, ak x sangka jumpe in real die nampak lagi hensem compared to dalam mana video yang die muncul..:P..sangat sporting...:)
-g-dragon??? juga seperti taeyang..selalu berada di hadapan ku....main2 air plak tu...SEXY!!!!
-korang perasan kan pemain2 muzik a.k.a band...aku jumpe diorang tepi stage before concert started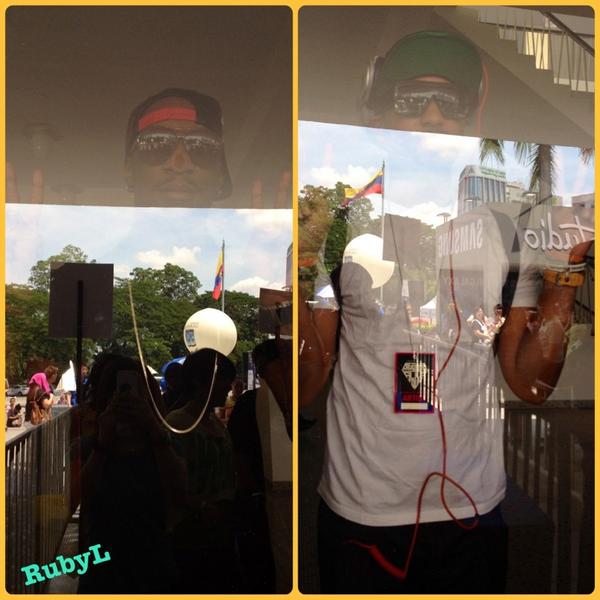 salah sorg daripada mereka yang terlibat-credit to @RubyL29
ak ternampak diorg on the way nak g surau. tp, dalam hatiku kata tu bukan yang duk wat main muzik ke??? nak amik gambr..tp, segan...huhu...takpe la...dpat amik gamabr gne mata pun jadi la...:)
-lagu yang aku boleh nyanyi bersama [blue,haru haru, ガラガラGO!!!, tonight] yang lain tetibe blank.contohnyer [last farewell, cafe,number 1, high high]...hahaha...excited sangat dengar diorg nyanyi secara live...:P LOL!!!
here are the photos;
credit to @mrdanteinferno's twitter
credit to Omar Dominick @ODubPERV
view from my rockpit.credit to Princess Razana's photo
ok la kan???:)
T.O.P
credit to Ain Atiqah Yazid's photo
clear giler gambar die...jealous yang amat!!!!!hahaha
aku rasa tu jer la gambar2 yang boleh kongsi bersama..walaupon bukan ak yang amik..hanya mata ak jer merakamkan pengalaman aku di sana...hehehe...sedikit sebnyak dapat juga kongsi dengan rakan2 aku yang x dapat bersama ke konsert mereka... that's all..:)
p/s: sorryla ada yang x puas hati dengan informasi ynag diberikan di atas ada yang x betol...i just love their songs..yang lain sy x amik port sangat...:) 미악헤..:)